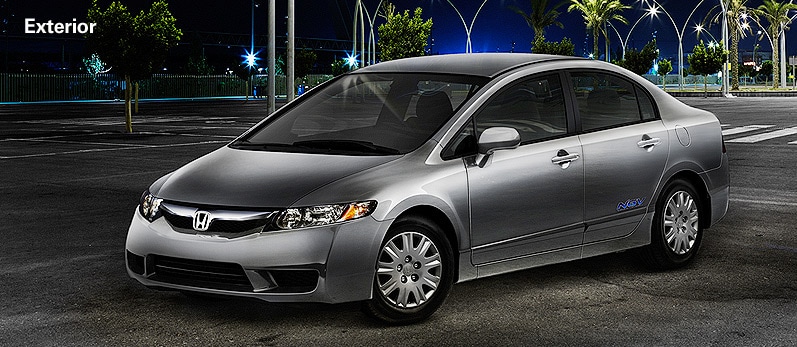 Ken Garff Honda of Orem Is pleased to announce that we now carry the environmentally friendly Honda Civic GX! It is now in stock for you to come in and test drive. A great alternative to hybrids, the Green Civic GX is one of the most award-winning, environmentally friendly vehicles you can buy! For a listing of all the available filling Stations here in Utah click here.
BETTER FOR THE ENVIRONMENT

As a dedicated natural-gas vehicle (NGV), the Civic GX guarantees that every mile of use is gasoline-free and maximizes its clean-air advantages.
The first compressed natural gas-powered vehicle certified to the strict Super-Ultra-Low-Emission (SULEV)[1] light-duty standard under California's strict LEV-II rules.
The first Advanced Technology Partial Zero-Emission Vehicle (AT-PZEV)[2] sold in California.
The first vehicle certified to federal (EPA) Tier-2, Bin-2 standard (cleanest other than zero-emission vehicles)[3]
The 2009 Civic GX received the top environmental vehicle rating in the ACEEE's Green Book?[4], which includes electric vehicles.
Zero evaporative emissions also allow the Civic GX to meet the EPA's Inherently Low-Emission Vehicle (ILEV) standard for Zero Evaporative emissions.
BETTER FOR THE COMMUNITY
Alternative fuel means reduced reliance on more limited resources like oil, which supports our government's energy security and clean-air goals.
99% of all natural gas we use comes from North America
Built in the U.S.A. using domestically and globally source parts

BETTER FOR YOU
Natural gas costs significantly less than gasoline saving you money every mile you drive

With a Clean Fuels license plate you can drive your Civic GX in the HOV lane even when driving alone
There are currently 24 public fueling stations in Utah with more being built every year
You can also have a home fueling station installed making fueling even more convenient
Free two hour parking at Salt Lake City parking meters
Clean natural means you can drive approximately 10,000 miles between oil changes
State tax credit of $2,500 and federal tax credit of $4,000 for qualifying buyers makes your Civic GX even more affordable
FAQ
The natural-gas-powered Civic GX is an extremely versatile car that has a multitude of uses. With all the possibilities, you may have questions about its capabilities. Below are the answers to some of the most frequently asked questions.

Q: The Civic GX is a dedicated natural-gas vehicle. What does that mean?
A:A dedicated natural-gas vehicle, like the GX, runs exclusively on clean-burning natural gas. This guarantees 100% alternative-fuel use. Some other natural-gas vehicles use a bi-fuel system that doesn't offer the same economic and low-emission benefits that a dedicated system offers.
Q:How clean are the emissions of the engine in the Civic GX?
A:The Civic GX engine produces almost no emissions. The amount of smog-forming emissions is near zero. In fact, the GX is the cleanest internal-combustion vehicle in the world[1].
Q:Do Civic GX owners qualify for Federal Alternative Motor Vehicle Credits?
A:Civic GX owners may qualify for Federal Alternative Motor Vehicle Credits. Please refer to the tax information pageand see your tax professional for details.
Q:Where can I learn more about natural-gas initiatives for U.S. auto manufacturers?
A:Visit the following links for more information.

The Natural Gas Forum
The U.S. Department of Energy's Clean Cities Program
The Alternative Fuels Data Center
U.S. Environmental Protection Agency
U.S. Department of Energy
Natural Gas Vehicles for America
California Natural Gas Vehicle Coalition
Contact us today at
(866)679-6766
to schedule a test drive
!
[1] SULEV (Super-Ultra-Low-Emission Vehicle) rated by the California Air Resources Board (CARB).

[2] AT-PZEV (Advanced Technology Partial Zero-Emission Vehicle) models as certified by California Air Resources Board (CARB) are available in California and states that have adopted California Zero-Emission Vehicle regulations.

[3] Tier-2, Bin-2 and ILEV certification as of May 2009.

[4] ACEEE's Green Book: The Environmental Guide to Cars and Trucks-Model Year 2009.